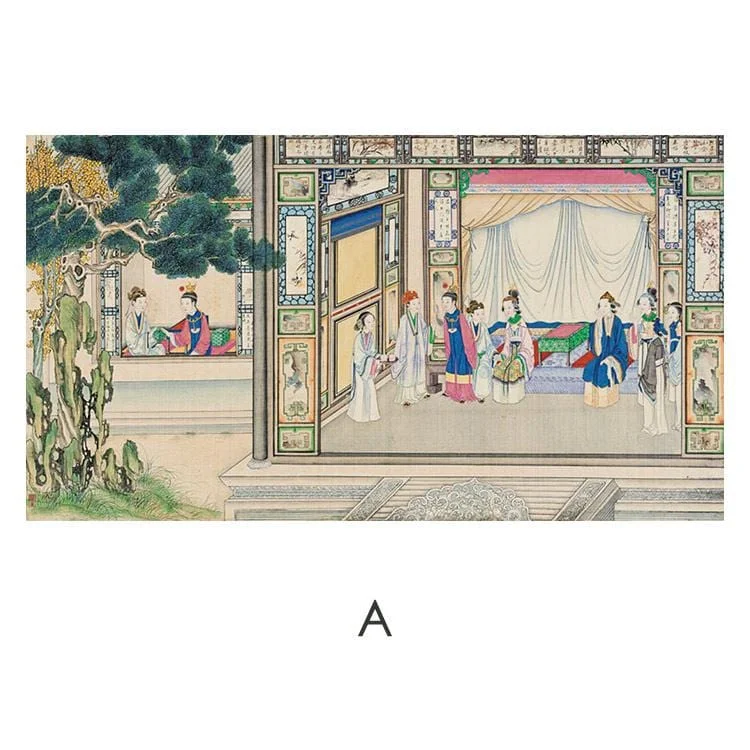 Year of work:Qing Dynasty
Technique:giclee on rice paper
Frame: UNFRAMED
Silk edge width: L/R10-20m, U/D 5-8cm (according to size)
Artist: Sun Wen (ca.1818–1904)
The most notable work of Sun Wen was comprised of many paintings rich in detail and narrative complexity, created as an illustrative commentary on the great Chinese novel"Dream of the Red Chamber."Sun Wen was attuned to the complexities of storytelling. It was given both vitality and mystery by a multiplicity of devices and illusionistic architectural constructions ranging from desktop toys to actual palaces with twisting corridors, sliding panels, the trompe l'oeil of murals, cutouts, and lattice-work piercing walls that allow engaging and inviting perspectives on the exterior world. The paintings of Sun Wen, in their way, translated this complexity into a single two-dimensional plane, preferring to emphasize simultaneity of the storyline and successive narrative effects rather.
 1"=2.54cm