INTERIOR DESIGN: BRING BEST ASIAN FINE ART TO DECORATE YOUR HOME
Jan 13, 2023 by ARTasia
Asian fine art gave home interior designers a great variety of various styles and options. Some people say that we can add elegant Asian fine art to the home, while some are attracted to its long-lasting capabilities.
An attractive and best Asian fine art makes your house look livelier, and can also have a lovely effect on your mood and daily productivity. When you see a lovely wall in your house, you feel joyful, and comfortable.
Many people are attracted to Asian fine artwork because of its nature. The modern style of Asian fine art enhances your home interior with effortless elegance and perfect features.
"What art offers is space – a certain breathing room for the spirit." ~John Updike
Asian fine art for decorating your home:
There is no special committee or offices full of employees who determine that what art is. "Art is not a thing; it is a way", especially when we are talking about decorating the home.
You can use awesome fine Asian art prints and framed art prints for home decoration not just this, you can hang a lovely canvas wall art. All these art pieces will aesthetically enhance your home decor.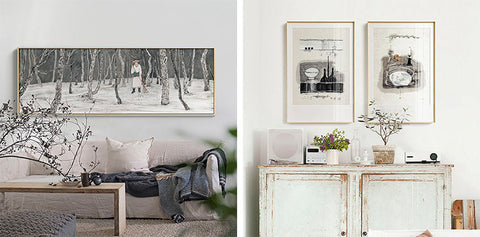 Selecting wall art by style:
You should select your wall art according to your home's style and the theme being followed for the interior. First, you have to choose which art style will match your wall size.
Then you can bring various art pieces to fill up the spaces. Start pairing colors and complementary art styles together. Fine wall art not just improves your home interior but also adds personality to space.
Wall art chosen by you should be according to your furniture. In this way, the wall art will enhance the look of your house while supporting the theme.
Wall art defines your home:
Wall art can enhance the interior look and the home ambiance of your home. If you have used the right wall, it will change your boring home tone into an inviting set of tones.
Selecting the right wall art is not that much difficult. The correct art pieces will give more details to your home. So, carefully chose the wall art that goes to your mood and preferences it improve your experience. It would help if you look at your wall as a blank canvas.
By using this canvas, you can showcase your personality in a way that suits best to you. Like the art you hang on your wall represents the feelings and the unique vibes you possess. Give your home a new and unique style and enjoy while selecting fine wall art.
Incorporating Asian-Inspired fine art into Western Décor :
Asian Art pairs East and West together in a unique way. It resonates very beautifully with western style decoration. Asian art decor offers a more elegant appeal for modern homes. Asian fine art tends to be sleek and neat, which is great for modern style decoration.
If you are hunting for something ideal to make your western style home peaceful and energetic, look no further than what the ARTasia brought to the East and West. You can achieve perfect harmony and balance.
Use different art designs to decorate some forgotten spaces:
Art is not meant to decorate walls only, and you can use the art for decorating other things like stairs, living room, etc.
It will increase the possible combinations of art and home design and make your walls look great.
All these Asian fine arts easily attract the visitors' eye. Finding the best Asian fine art piece for your home is not difficult. Displaying your fine art in your home can become a talking point and you can inspire your neighbors, friends, and family.